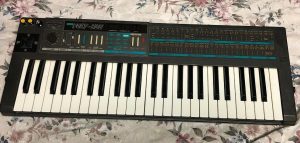 "This synth has been tested and sounds great!
It has been fitted with the Moog slayer mods for control of cutoff and resonance via the knobs on the side. There is also a third knob for FM. The order of these from left to right goes; cutoff, resonance, fm.
The only issues are that the battery cover is missing and the cap for the tune slide pot is missing.
Please see pics for further detail
Also be aware 9v power supply is NOT included in the sale" Click here to visit listing on eBay