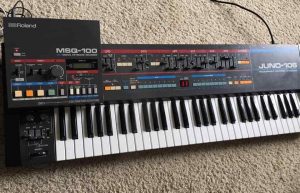 "This auction is for a working Roland Juno-106, and a working Roland MSQ-100 Sequencer!
This synth has been a labor of love, but it's time for me to move on and make some space now that I have a Juno60. 🙁 This synth has a long story behind it, so please read the description carefully.
Right, now let's talk about the Juno! This synth was a rescue. When I got it, it was covered in stickers, dried masking tape, and dust. It had numerous issues which I gradually fixed myself over the course of five months. This is probably the biggest project I've ever undertaken on my own and I really want to see this synth go to a loving home.
I have done the following:
>Swapped the ENTIRE front panel PCB with a "new" old one, as the original had too many issues to salvage. All controls are now working perfectly.
>Resoldered the AC inlet, as someone had replaced it without soldering it together properly. (It's the newer type with three prongs, by the way!)
>Resoldered the power switch, as it had broken off
>Replaced the battery, installed a plastic battery holder that sits neatly between the CPU board and voice board (see pics)
>Reloaded presets
>Replaced Voice Chip 1 with another 80017a. (Yes, I did it right and actually put it in a socket)
>The previous owner replaced Voice Chip 6 with a clone from analogue renaissance.
All six voices are now working great!! I've let it run for several hours now and I'm not hearing any crackles or dropped notes. But please consider, if you want to completely future-proof this voice board, check out synth spa for a comprehensive restoration process. Not currently needed, but something to remember since five of the six voices are still original, non-stripped voice chips. I haven't calibrated the two new ones, but everything sounds ok to me.
Note:
> Chorus is working great, but it is somewhat noisy. Maybe 50% noisier than my Juno-60. You will receive two NEW replacement chips (clones) + sockets so if it bothers you, you can swap them out. I didn't mess with it. I think the noise gives it character, but to each their own." Click here to search for synths on eBay