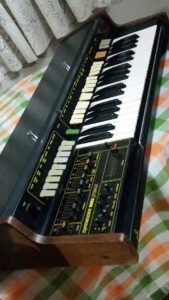 "Old item, used but still functional." Click here to visit listing on eBay
"OKAY THIS SYNTH RULES! Here's some things that do not rule about it though.
My touch bar doesn't work. It's totally playable other than that, but this neat feature that make this model unique does not work. Probably just a quick solder job but I was too afraid to crack this open to look at its guts.
The power button on the Synth itself is stuck pushed in. You can power on and off through the plug adapter though (built in cord does not fit USA plugs)." Click here to visit listing on eBay
"Korg 900 PS
Echter analoger Synthesizer mit guten Filtern, in einem für sein Alter, optisch und technisch, sehr guten Zustand." Click here to visit listing on eBay