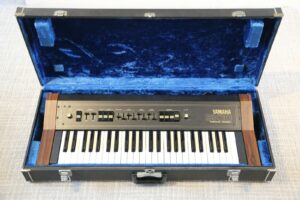 " Yamaha SK10 Polyphonic String, Organ, Analogue Synthesiser. 230V. Inc Hard case. Condition is "Seller refurbished".
The SK10 is the entry model in the SK range of synths. All the SK's are undiscovered gems in my opinion. I love the strings and the 'ensemble' mode which adds so much depth to the sound. They are also all polyphonic (other than the monosynth channels on the SK30 and 50).
This one is in nice shape. There are a few 'dimples' in the paint of the front panel, but no obvious corrosion, scratches or damage to the wooden parts. It looks really nice.
The transformer has been swapped out to a 230V one (was Japanese 100v initially). Photos were taken last week before this was complete. Now mains cable is 3 core rather than the Japanese 2 core seen in the picture.. All the switches work and the pots are not noisy. Sounds sweet.
Comes with a genuine Yamaha hard case that is in fine shape." Click here to search for synths on eBay