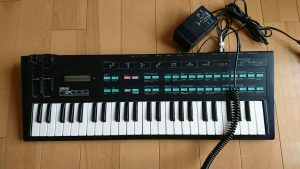 "This item is,
It is a DX 100's thing.
MIDI / IN, OUT, PHONE, LINE OUT,
Power supply and terminals are confirmed.
Image ② upper left PITCH (pitch vendor) has trouble, because it was holding with tape, there are tape marks.
Image ③ There is also a tape mark on the battery cover.
The appearance, the keyboard, the button, the display, the inside of the battery holder are also beautiful, there is no trace of liquid leak, but there are dirt, scratches etc due to aged deterioration.
Other than that, there are not particularly conspicuous parts, I think that the state is good.
The exhibit is the main body ? AC adapter."
Click here to visit listing on eBay