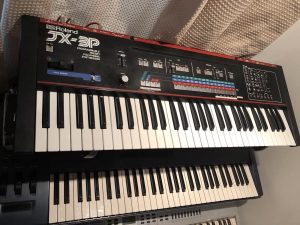 "Up for sale here is my classic Roland JX3P synth.
Obviously it is an old synth and has some signs of slight wear and tear. It was fully serviced in the 1990s, and is functioning well in all areas.
A thing of note to mention is that at some point (probably in the service) the power cord has been replaced with a super long cable, this makes it much easier when setting it up in a studio or on stage!
More photos are available on request.
It's a fantastic sounding synth with some amazing bottom end, particularly on the string/pad sounds which have that classic Jupiter/Juno feel. " Click here to visit listing on eBay