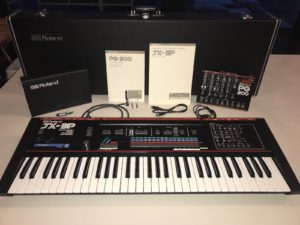 "You are bidding on a Roland JX3P in good physical and full working condition. It is a 1983 relic, so is NOT mint, but the light surface marks and tiny scratches are superficial. I would say this is in excellent condition though and only upon close inspection can you see it is not mint-perfect. I doubt anyone would be disappointed. All the functions, buttons, memories, lights etc are working as you would expect. Power lead, with UK 3 pin plug, is attached to the synth.
This auction come with the ESSENTIAL PG200 programmer, which is MINT. It comes with its original black plastic case and 2 programmer leads. These look like MIDI leads but are not. They are special leads for this programmer. You have 2 here.
Also included is the original manuals for both the JX and PG, the latter of which is quite rare to find.
Finally it is all housed in the original black Roland branded hard case (I even have the keys so you can lock it!). This is in beautiful condition, as you can see from the photos. Inside the case lid is the JX3P sheet music stand, still wrapped in tape, having never been used." Click here to visit listing on eBay