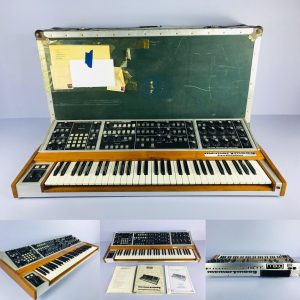 "Here's your chance to get one of the best poly analog synths ever made. The vintage Moog Memorymoog Plus (serial#3203) with LAMM upgrade (Lintronics Advanced Memorymoog modification). The LAMM upgrade was done around 2001/2002 plus about $1200 shipping cost each way thru ABX logistics. Original shipping label from Germany to USA is still attached. Done directly by Rudi Linhard. That's almost 20 years ago! This is probably one of the earliest unit with this mod. I believe the upgrade now will cost around $8000-$9000 with one year lead time.
I just have a well known bay area tech checked and went through the whole controls. It works & sounds awesome! All 6 voices tunes w/ the autotune at power up (short video uploaded on my instagram page "tristarmusicgear". I can provide his email & cell# if you have specific questions about this synth. No service was needed as it works great.
Cosmetically it is in very good cosmetic condition. Same owner for the last 20 years and it just stayed in a smoke free home environment. Few cosmetic flaws: an indent on the left sidecorner of the led display & scratches on the top chrome panel, scratch on the right side panel. Few marks here & there but looks very good for a 35+ year old synth.
Included are the Anvil Case, original warranty card, owner's manual, 2″ thick service schematics, Lintronics manual, & power cord. "
Click here to search for synths on eBay