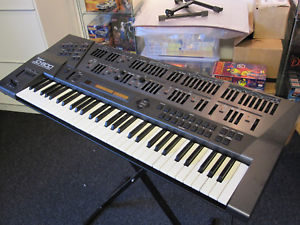 "I will describe the condition, and current state, but I cannot answer technical questions. Please use Google for downloads of the manual, and technical specifications.
The synth is in overall fair condition (7 out of 10, in my opinion) A bit of wear to the surface finish around the cursor buttons – see photos.
All buttons have been checked, and they all work as they should, without the need for excessive force. The data slider and volume control are fine too.
Audio outputs are good.
I have checked the MIDI in and out, both fine.
The backup battery was changed very recently, and the factory sounds and combinations have been restored (using a system exclusive data dump)." Click here to visit listing on eBay