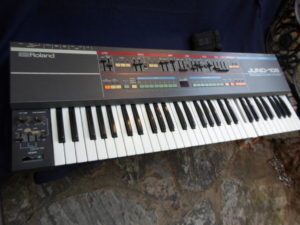 "vintage ROLAND JUNO 106 keyboard synth
it has vintage 2 prong power connection cable which
is hard to get, but I still managed to check if it works.
It turns on and works, all sliders are original , there is some noise on some sounds.
Some sliders and functions are producing the hiss,some decline to produce any sound.
This beautiful synth should be cleaned properly and it needs some
attentive overhaul and restoration, but is alive.
Some keys sound less loud then others ,
side panels of they keyboard are missing." Click here to visit listing on eBay