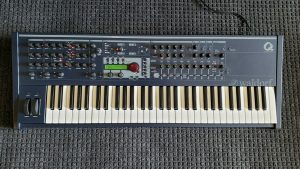 " It's a blue Waldorf Q with the standard 16 voices.
I bought it on this very website a few years ago, but ended up not using it very much. It is clean and in good condition (see photos). I tested it before boxing it up and verified it is fully functional, but here are the known issues:
– Some scuffs and dents on corners.
– Chip in the rubber on cutoff knob.
– Left output is bent inward, but works fine.
– Second 'C' key sticks up slightly, about the width of penny or dime.
– A few other small nicks and scratches.
Also, I cleaned it awhile back including the inside and noticed that a pin on the socket for the voice expansion board is bent. If by some chance you happen to have an expansion board you want to install, you will need to carefully bend the pin back into place or install a new header on the board.
Comes with a 6′ power cable, not pictured." Click here to visit listing on eBay