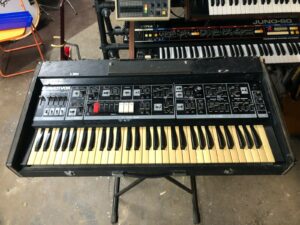 "When it was working better it was sounding great.
This one is going to need to a lot of tlc but it's super rare and totally worth the investment.
It has some pitting on the front panel but it's still intact.
The tolex is peeling and it would look great redone.
The cover for the front of the keyboard is included and it good shape.
The metal trim that goes around the end caps is missing.
The power cable is laughable.
You'll probably want to replace it right away." Click here to search for synths on eBay