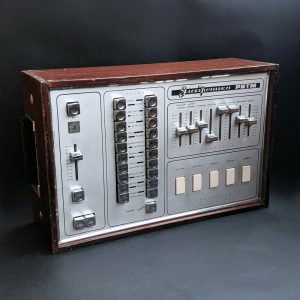 "You have a chance to buy a museum piece!
For your attention one of the rarest drum machines of the Soviet Union – Elektronika Ritm (Electronica Rhythm). SN 356, produced in February 1979.
The unit after full profesional service (recapped, tuned, cleaned). Comes with original pedal – even more rare thing than the drum machine itself, but it doesn't works correctly (only for start beat).
Electronica Rhythm is an analog drum box with 30 preset styles and base sounds such as big drum and snare, rim, cymbals, tom and some percussion sounds. Drum sounds are controlled by 8 sliders. There are also 5 buttons for live playing.
It was manufactured by a military soviet plant in the late 1970s in very small quantities, because for Soviet standarts it appeared too expensive in production. This in LINNDRUM-type with an own character. BTW, this rhythm box was used by legend of Soviet rock – Viktor Tsoy ("KINO" band) for album '45'."
Click here to search for synths on eBay