"Euro model with a Us power converter. Condition is Used. Shipped with USPS Parcel Select Ground." Click here to visit listing on eBay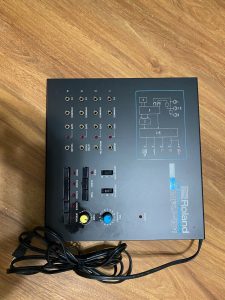 "Roland MPU-101 MIDI to CV Interface – Vintage. Condition is Used. Shipped with UPS Ground." Click here to visit listing on eBay
"Mini Moog Model D- A complete restoration from the ground up, as they say in automotive land. This is a beauty: 9.99 out of 10. Complete service and calibration by former Moog Warranty service engineer, to the extreme of every pot, trimmer, card-edge connector, Cinch-Jones connector, all keyboard contact springs/ surfaces and switches being physically disassembled, de-oxidized/ cleaned with Cramolin, re-lubricated (pots, trimmers and switches only) and then reassembled. Pitch-bend and Modulation wheel pots are brand new sealed AB type J, as original. Complete electronic calibration / tuning to exact Moog factory standards. Power supply rebuilt / calibrated using overrated components. All controls feel smooth and positive. Keyboard is fast and accurate, and mechanically aligned. Cabinet work (poplar-hardwood) has been completely restored/refinished and looks brand-spanking new, with a beautiful dark grain pattern. This classic example was built in 1974. This is probably the best condition Mini-moog that I have seen or played in years.
This amazing classic axe comes with a mint condition Roland MPU-101, which is the best (fastest) MIDI to Gate/CV converters on the market and is very rare. The Moog's Trigger Input has been professionally modified to invert the polarity of the industry-standard Roland trigger/gate and is easily un-doable with simple tools, but why? (Moog products of this time had an inverted trigger polarity from all other synth manufacturers, and are intended to be driven by a Moog Sequencer output only). This rare interface allows MIDI functionality and; thus, defacto computer control for one of the fattest sounding classics available…tweeze the filters in real-time and rerecord in playback mode while the track plays back. Play faster, hipper, more correct bass lines after editing, etc.; the list goes on. This little trick made me sound like a player with great chops and groove.
Photos are shown without the stock base-plate mounted; it had seen better days. The original is just shyte chip-board. I have replicated the base with high quality Baltic birch plywood, just because; it should last forever.
Moog factory service documents with calibration, schematics, PCB/component art are included.
Roland MPU-101 schematics and owners/operators info is included
The unit is sold ONLY with the Roland MPU-101 as a set. Two interface control cables are required and included (one 1/4 in to 3.5mm Switchcraft connectors on each, approximately 1 meter in length), for the separate Gate and CV input. See photo.
Both units are wired for standard North American AC- 120VAC/ 60Hz- can easily be rewired internally by any competent tech, or run with an external transformer (220-240VAC/ 50Hz, with 0.25 to 0.5 A nominal current rating ) for most of the rest of the world (Japan is unique at 100VAC/ 50Hz). Both units have non-removable hardwired AC cables, as is stock." Click here to visit listing on eBay