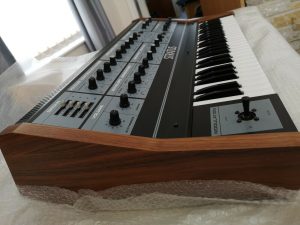 "Crumar Stratus Synthesiser Exceptional Condition fully Serviced." Click here to search for synths on eBay
"Crumar Stratus Vintage 6 Voice Polyphonic Synth/Organ. Condition is Used.
This has THE filters which make THOSE Crumar synth sounds which are behind many of the great hits of the 80's and 90's. All the keys and knobs are functional. this is not modified, it is fully stock like it came from the factory.
The unit has some scratches and the veneer is peeling on the end caps a bit, otherwise it is very clean (and could benefit from some more cleaning). The original carrying bag is included but will need some work on the zippers the get it to close fully." Click here to search for synths on eBay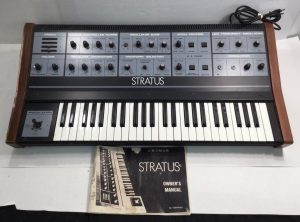 "This Rare Crumar Stratus is in Very Good overall condition especially for its age. Everything appears and seems to be fully working and functional although I was not able to test everything there does not seem to be any major issues. The only noted flaws I came across are 5 Dials that will need to be repaired which should be a fairly easy fix"
Click here to search for synths on eBay