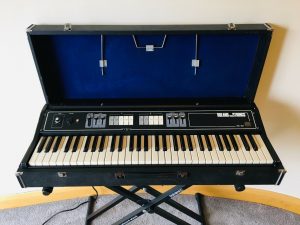 " Stunning 1975 Roland RS-101 String Machine in fully restored condition.
Fully polyphonic string synth with individual VCAs and envelopes for each note.
The first of the Roland synths to feature the lush Ensemble effect (the RS-101 has 4 modulated delay lines vs the rs202's 3 delays and the difference shows) and this stringer has the mojo in spades. It's as lush as they come.
The excellent feeling 5-octave Keyboard is split, bi-timbral, with Strings I, Strings II, and Brass either side of the split, and with variable tone control, fully independent Slow Attack, Variable Sustain, and Volume Soft options.
Very expressive synth, with a beautiful haunting tone, and being fully polyphonic (unlike the earlier Solina) the expressivity is fantastic. Sits perfectly in a mix. Again, the ensemble
This synth has undergone meticulous restoration, including recapping of almost 100 caps, full restoration of all pots, switches, etc. Keybed fully restored. It's bulletproof and should provide use for many more decades to come." Click here to search for synths on eBay