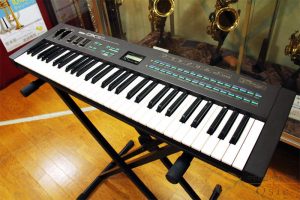 "A Yamaha DX21 FM synth, perfect audio and everything 100% works. Only some very minor wear, other than that not a single thing wrong with this beautiful piece of equipment. Lightly used and well taken care of.
Whats included:
– Yamaha DX21 synth (61-keys)
– Yamaha DX21 Pedal
– Original Yamaha DX21 Manual
All keys, sliders and buttons work perfectly.
Perfect starter synth for FM synthesis!" Click here to visit listing on eBay