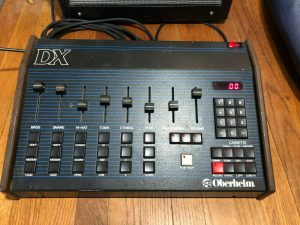 "Vintage Oberheim DX in good working order. I purchased this back in the 90s and it's been working ever since. Please see the pics for condition. It has a few scrapes on it here and there but it works fine. I was able to erase the memory and then program a new sample into it without issue. It looks like it may be the original battery in there but it hasn't leaked or anything.
I've also included a set of chips with it that I did not test. The system has the ride cymbals setup in it right now and some crash cymbal chips and a different snare chip are included with the auction. I received these when I purchased it years ago. They should be working. If not, I think you can get new chips for these on the web pretty easily.
The only key that seems to be not working 100% is the Shaker2 key. It works if you press it a few times and then sometimes it works fine.
It has an old sticker from a music/guitar shop on the bottom of it which could be easily removed but I left it there since it gives a bit of the history of it. " Click here to visit listing on eBay