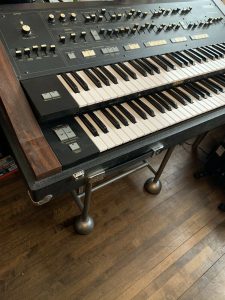 "YAMAHA SK50D Synphonic Ensemble. Condition is Excellent for age, all keys work all functions appear to work." Click here to search for synths on eBay
"This is an absolute monster.., a rare and great machine… built like a tank!. You probably know this if you are looking.
The bass will rattle windows. The organs give very good Hammondesque pads. Poly synth can be layered with the string section – and even the organ. But it is the mono synth that I like best. That can be layered with the bass for amazing deep and squelchy bass lines.
Its a library picture, but mine is in excellent condition – especially considering it is about 37 years old!. I have the case (that it is semi built into) and a Z stand." Click here to search for synths on eBay