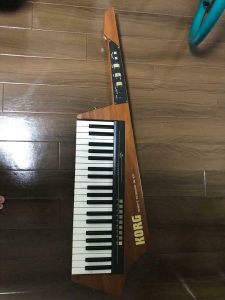 "It is used only twice after buying it for secondhand 30 years ago, but there are fine scratches.
The color is very rare with a rare walnut (wood grain).
It is a rare product that is rarely offered for sale in the second-hand market.
The power is turned on, and it has been confirmed that a sound can be output from the MIDI source connection.
By the way, since it is a remote keyboard, it does not emit sound from the main unit itself.
There is no special case.
I will attach the case of a photograph, but I can not store it completely.
There is also no strap." Click here to visit listing on eBay