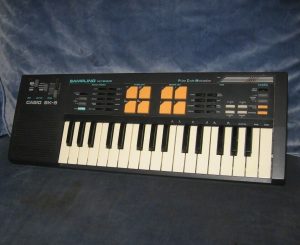 "Travel back in time with this early Casio sampler. Made in Japan from about 1985 to 1987, it's a very early sampler. This is the same model of sampler that Terrence Howard started with in the "Hustle and Flow" movie. It made sampling available to the masses cheaply.
It can hold four 0.7 second samples or two 1.4 second samples. The samples can be looped, reverse, and hit with a handful of effects. It's also a 32-note keyboard with four-note polyphony. Its eight voices are piano; dog; trumpet; chorus; vibraphone; surf; pipe organ; and flute. The rhythm pad has hi bongo; low bongo; laser gun; and lion. That's right: it has some weird sounds (dog, surf, laser gun, and lion). It also has a eight basic tempo-adjusable rhythms. And it can record song loops for later playback.
It runs five AA batteries. It does not come with the power cord. Output is 1/8″ jack. Input is either 1/4″ or 1/8″ jack. The Owner's Manual is available for free online at Yumpu.
It's a cool retro piece. I tested it, and everything works." Click here to visit listing on eBay