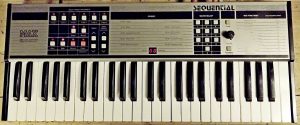 "The SCI / Sequential Circuits MAX is a 6 voice, multitimbral VCO polysyth with a built in Sequencer, MIDI in / out and 4 octave keyboard.
Please note, this sale is for the SCI Max and a power supply only.
Everything works as it should on this MAX, including all keys, buttons, jacks and the volume control.
Please check the pictures so that you are sure of the cosmetic condition of this synth, as It has a bit of "patina."
The SCI MAX can be programmed via software, I can email a program that I have found is useful for programming sounds with a windows computer." Click here to visit listing on eBay