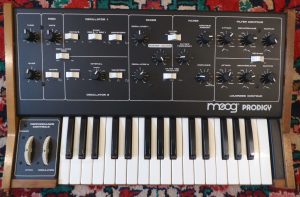 "Vintage Moog Prodigy here in cosmetically reasonable shape.
When I bought this a few years ago it had just been serviced by James Walker of Synth Repair Services.
It had also been fitted with a Kenton socket kit on the rear, providing CV, Gate and Filter mono mini-jack inputs – you can run a sequencer through it amongst other things. Normally I wouldn't approve of tinkering with classic models but in this case it really does add 'functionality' + the upgrade is discreet, professionally done and doesn't destroy the appearance.
The keys are slightly discoloured, the woodwork's a bit worn, scratched & faded, there are a few scratches on the back panel & lettering. The first (last?) key on the right has a couple of small marks, possibly burns from some dope fiend's smouldering hash dropping onto it.
It's been stored in a clean, dry, smoke, child, pet, pest & gluten-free environment & hopefully sounds the same as when I bought it. If you were going to use it for recording it's probably better to let it warm up for a while. I checked various YouTube demos & everything here seems to function the same as other models (which is a relief when gear starts to age…)." Click here to visit listing on eBay