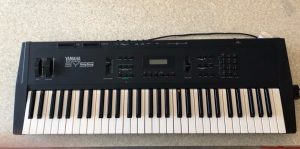 "I've been gallantly hanging on to this old beauty for years but needs must and it's time to free up some space in my studio…
A rare chance to grab a Yamaha SY55 Late 80's/Early 90's synth.
All "obvious" features are working – ie, it plays and changes patches, outputs in stereo…
I've not used the Sequencer nor the MIDI for decades and never used a ROM card. I can't see why they wouldn't be working but it is a case of buy what you are seeing given it's age.
The lowest black key (C#) works but needs looking at as the "spring" action isn't working and the key itself is loose; I've tried to show this on the photo above but it isn't showing very well.
Also, there is a chip out of one key as shown in the photo.
A chance to grab some genuine 80's/90's synth sounds for an absolute bargain – please put a bid in as I'd hate to have to throw it away!" Click here to visit listing on eBay