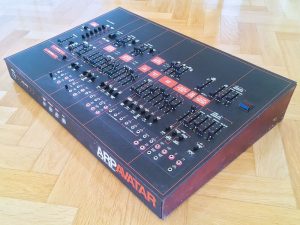 "A recently serviced ARP Avatar with the additional New England Patch Panel and sub-oscillator.
The rather useless "VCA-GAIN" fader has been re-routed and now controls the volume of a sub-oscillator based on the circuits of the Roland SH-101 sub-oscillator.
All is very good working, all faders has been desoldered, opened and cleaned. Broken parts replaced. So all faders function like new. The PSU has been refurbished with new parts. Some scratches and marks on the sides, but nothing major. The front panel is very clean and in good condition (see images).
I have been using it with a Kenton Pro-Solo and it works very well.
No guitar pick-up or chord. Just the synth."
Click here to search for synths on eBay