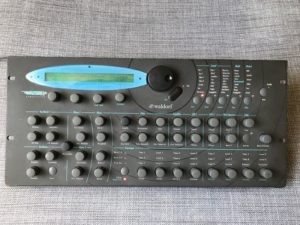 "Beautiful super rare collectors edition Waldorf Microwave XT Shadow wavetable synthesizer in perfect working condition and sounds absolutely amazing.
Only 666 of this version were made! It's really hard to let go of this beauty, but unfortunately it is necessary.
10-Voice, OS 2.33. Comes with both the original EU power supply and a newer US power supply, and extra knobs.
This unit has the original knobs which is uncommon for these synthesizers. There are some chips and scratches here and there and the Main Volume knob is a little looser than the others, which is why the price is a little lower than usual for these Shadow Editions, but still looks great." Click here to visit listing on eBay