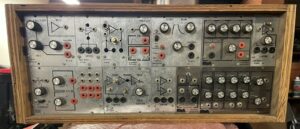 "I've been carrying this thing around for YEARS. I keep telling myself I'm going to restore it… I've finally given in and am hoping someone will make it go again.
It doesn't really work, certainly not like it should. It makes sounds but… not really? It also has had some mods done to a few of the modules which you can see in the photos.
It is in a home made plywood case which even still has some measurements written in pencil on the side. I call it The Folk Synth since it has an early American folk art vibe.
The pots date it to 1974, which would make it quite an early Paia. From a little digging there are several places online to find schematics and build docs.
This is definitely a project so expect a fair amount of parts replacement and rewiring. Assume it's 46 years old and has never been serviced.
Due to age, lack of functionality, and unknowns this is definitely sold as-is and with no reserve. However, I do hope that someone will make this the coolest old time folk art modular ever!
It contains these modules:
2720-2A VCO
2720-5 control oscillator
2720-14 sine/PWM
2720-3L low pass filter
2720-3B band pass filter
2720-12 inverter/buffer
2720-11 envelope follower
2720-4 function generator
4710 function generator
4740 envelope generator
4711 four channel mixer
2720-7 power supply" Click here to visit listing on eBay