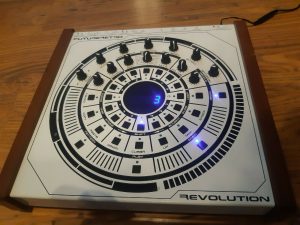 "Very rare of first models produced , owned from new, as you would expect for a unit of this age, will be cleaned and made ready for use. Buttons on these can be a bit sticky just like the original 303 though they work better with use, as do the pots. Never abused and well looked after.
Hear it on our album tracks on iTunes, kenspocket
Its had the internal battery case mod done. Normally soldering to board.
Will be supplied with a couple of batteries spare to fit. For internal program memory.
I think we still have the box , though it will be tatty. " Click here to search for synths on eBay