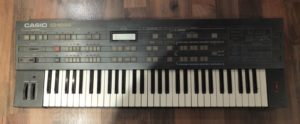 "This auction is for a vintage Casio "Cosmo" CZ-3000 keyboard synthesizer from 1986.
The keyboard is in good working condition, with a few scuff marks.
The stereo chorus slider is missing the grip (like on the volume control) but still slides perfectly well.
The battery cover for the back is missing, and one of the battery contacts is rusted.
3 of the flat keys are slightly misaligned, so they stick very slightly.
Included with the keyboard are an operations manual, and a summary, both of which were printed out and bound by myself." Click here to visit listing on eBay