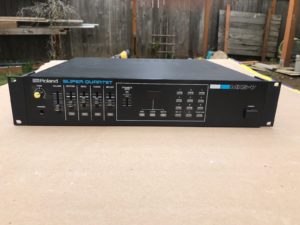 "Roland MKS-7!! Super clean, works great. Includes power cable, no manual"
Click here to visit listing on eBay
" This auction is for a used Roland MKS-7 Super Quartet Vintage 80's-era Synthesizer / MIDI Module. It's fully operational and all the sliders, knobs, and buttons on the front and back panels are intact and functional." Click here to visit listing on eBay
"This one is for a Vintage roland MKS7 super quartet rack synth.
Basically, it's a rackmounted, multi-timbral Juno106 AND TR707,
it shares the same components of those (except sequencer, obviously),
the MKS7 can be edited with any decent MIDI controller, or another Juno 106,
it's a good all-around box, with good editable presets, classic sound, compact size.
it's been looked over by a tech a few months ago, to make sure everything is OK with it.. (it is)." Auction ended. Click here to browse on eBay.