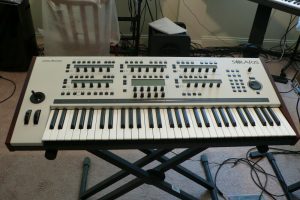 "As-new condition, no smoke, no gigging, private home studio. Latest OS and patches installed.
I am the original owner, purchased directly from John Bowen in 2013.
I am a noodler, so I have used this synth very lightly.
Keybed and knobs are as-new.
Sounds as good as they say i.e. 96Mhz sampling rate.
Both Black Octupus patch sets are on the SSD card (free + paid-for second set)
No problems electrically, mechanically, or cosmetically.
Accessories included:
– T-shirt
– Original manual
– A SSD card adaptor for working with the Solaris SSd card
– The original Sound on Sound article that reviews this synth
Shipping will be double-boxed and insured." Click here to search for synths on eBay