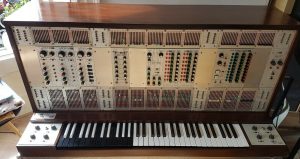 "Tonus Model 2002 predecessor to ARP 2500
only around 20 units produced between 1970-1971 before production started on the later ARP 2500 Model 2515.
Recently fully restored by Phil Cirocco at CMS Discrete Synthesizers in the US
Additional calibration and snagging carried out by Keith Kniveton at Lucid Sound in the UK
Cabinet fully restored.
Modules
2 X Model 1004T VCO
1 X Model 1004R VCO (very rare rocker switch module)
1 X Model 1033 Dual Env
1 X Model 1006 Filt/Amp
1 X Model 1027 Sequencer
2 X Model 1026 Preset/Voltage Module (clones, see details below)
1 X Model 1002 Power Control Module (modified for European use)
Keyboard Model 3221
System serial no. 008 built in 1970.
As part of the schedule of works, Phil replaced the power supplies with modern linear models.
All modules were assessed and repairs carried out as needed. Trimmers were added as per ARP specs to aid future calibration.
1002 power module had upgraded front panel on/off switches to work under European 220V power specs.
1026 modules are a short run produced in very low numbers last year, the 1026 was only ever a prototype and never formally released. It syncs to the 1027 sequencer and 2 x 1026's can be daisy chained which is how its currently configured. They introduce random elements to sequencer steps and are highly complex, interacting with each other.
This has been a no expense spared restoration and has taken around 6 years to complete.
Phil C commented it was the earliest system he's ever worked on and was 'historically significant'
Sonically, it sounds incredible and even in its current layout can sound very complex, admittedly its not the most advanced of configurations and there are currently 2 blank module spaces that could add more tone colour if populated with additional modules.
this is a rare opportunity to pick up an icon of electronic music.
I'm now starting work on a second system so letting this one go."
Click here to search for synths on eBay