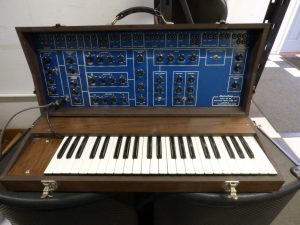 "Nice Vintage ElectroComp EmL-100 Analog Modular Synthesizer, in blue.
The EML ElectroComp 100 was the companies first product and was a great deal of an instrument to consider over other synth makers if not for it's great features.
The 100's 4 oscillators offered continuously variable waveforms and one of them could be used as an LFO. The unit is a semi modular system with a patch panel that could also use and process external sources with CV control of other synths or the 100 itself.
The instrument has 2 voices with a multimode filter, 2 envelope generators, and, a sample and hold section EML liked to call "The sampler". It also offers white or pink noise and has a 44 note keyboard.
Overall in very good condition, the outside panels do have have scratches and does have a chip along one of the covers(nothing major).
I did have them checked out, and had the necessary repairs\cleaning done to make them functional.
The unit was cleaned and tested. All the jacks, connections, and potenciometers were cleaned and checked.(Per the repair technician)
All original." Click here to search for synths on eBay