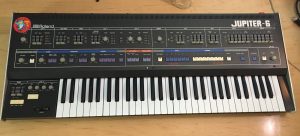 "This synth is in excellent working condition.
All sliders are smooth and straight.
It was fully serviced by Roland in 2002.
Serviced and tested in August 2018 by synth experts Heyday Music, Asheville.
It has spent the last 20 years in an air-conditioned studio with occasional use.
There is a marking/smudge of unknown origin to the right of the "Jupiter-6″ logo on the right side of the synth. (I never even noticed it until I had to photograph it)
There is also a sticker on the front left. This could probably be removed with the right care.
Includes flight case." Click here to visit listing on eBay