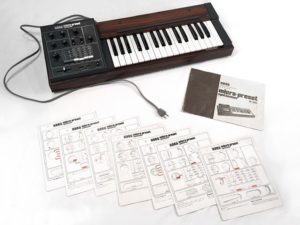 "This Korg Micro Preset M500 comes complete with its original manual and nine patch sheets that fit over the the controls to create specific sounds. There are a few blank ones that you can use to create your own.
It is being sold AS IS. I am not a specialist, but had it checked over by one and this is what he reported:
-All functions appear to be working EXCEPT "Synth 1" and "Synth 2."
-In good overall cosmetic condition, except one chip on a corner clearly marked in the pictures, a few light surface scratches.
-Missing the knobs on the "Modulation Depth" and the "Momentary / Portamento" switch (but they work fine without them). "
Link