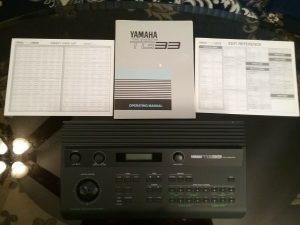 " Yamaha TG-33 Tone Generator With Case, Power Supply, Manual, MIDI cable and Sound Card. Condition is Used and sold as is. This has been in my closet for over 25 years not being used, in a non-smoking controlled environment kept in it's case and was never used for gigs. I just used it way back in the day, late 80's to early 90's, when I was into playing my keyboard in my bedroom through my stereo. I thought I'd eventually be a keyboard player (thus the case for it) but switched to bass guitar back then and never set it up until a few days ago and it all checks out just fine.
I checked all jacks and outputs and they are fully functional. Gotta say, I do take good care of my gear! The unit is in very good condition and all buttons/knobs feel like new.
The SY22 soundcard works but I did not test the memory card, it is included at no extra charge. The label is stuck to the inside of the sleeve it came with but the back writing is ok as you can see in the pics.
The included case has one broken rubber foot, but it was not a case made specifically for the TG as you can see. I think it was originally for a large Panasonic Video Camera (VHS type) that my friend's father had and was tossing out, so I lined it with foam, and it can easily carry the power supply inside with the generator. Manual is included along with sound/play printouts too as pictured."
Click here to search for synths on eBay