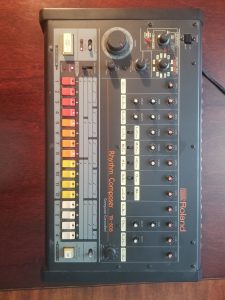 "TM Steven's personal Roland Rhythm Composer TR 808
Computer controlled.
This is in working order. Exactly as it was when picked up.
We have been hired to help liquidate TM Steven's Musical assets. These items have been picked up directly from his home and reputable music artists studios.
If you're a TM fan or a musician watch close because we have a TON of items coming up for auction daily.
This Auction includes everything photographed so please look at all photos and ask all pertinent questions prior to bidding. " Click here to search for synths on eBay