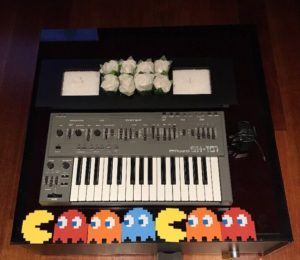 "Okay this needs NO introduction:
Ladies and gents the legendary SH101.
The tech at MPA just described this as "by far the best condition inside one of these I have ever seen".
Been in my home studio for years with very light use and absolutely no stories or issues
I took high resolution close-up shots so you can see exactly the condition of this beauty.
Recent Full Service – 21st Feb 2018 including tuning AND intonation for the legendary tones AND true percussive sounds that often go missing with age. Cost £120 so factor that into any other item
The ONLY reason this is not listed as 100% mint is a scratch on the battery cover that I did about 8 years ago and the volume pot sometimes crackles on adjustment but NEVER in use. Advice on service was to leave alone and keep 100% original.
Complete with power supply this will be a gem in any studio / collection. I am setting this at a low low start so we can see exactly what these are really worth in this kind of condition and with recent service " Click here to visit listing on eBay