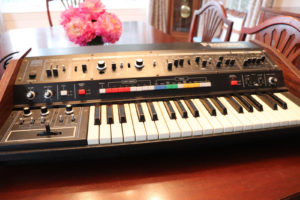 "If you're looking at this, then you know what it is. I recently bought this from a real 'synth guy,' who went over it and serviced it… made it good for years to come. He replaced the battery, re-capped it, and cleaned it up. If you've been looking for a great Promars in very good-excellent condition, then this is the one… Also probably the only one available online that ships from inside the United States. It is in 100% perfect working condition.
In the interest of full disclosure, here is a fully transparent (to the best of my ability) description of the synth's condition, with any and all 'little' things that one would want to know:
All original sliders, knobs, buttons, switches, etc. are present and accounted for. There is no writing or stickers anywhere- as far as cosmetic condition goes, there are some knicks on the wooden sides (visible in pics), a little bit of tape residue next to the word "Promars" on the face plate, and a little bit of rust/buildup on some of the screws (which could easily be replaced). Also, the Attack slider in the VCF section is slightly bent, but does not affect function. Synth stays in tune and tracks well.
Also, this is the Japanese version (100V), so you may want to get the appropriate voltage converter for this baby."
Click here to search for synths on eBay