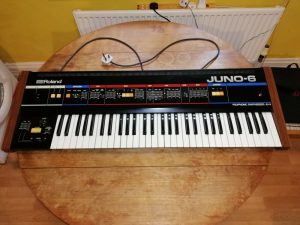 "ROLAND JUNO 6 POLYPHONIC SYNTHERSIZER (c1983).
GOOD CONDITION, EXCELLENT WORKING ORDER.
COMPLETE WITH RETRO-FITTED KENTON MIDI IN/THROUGH/OUT.
I've owned this since June 1997.
2 Previous owners, one still known to me.
Studio use only.
***IMPORTANT THINGS TO NOTE (refer to photos)***:
– There are numerous scratches on the case. Generally small, but a larger one as seen in the ARPEGGIO section.
– A chip in one of the keys.
– The end-cheek veneers have a few small digs, and has the potential to lift along their bottom edges.
– CHORUS setting 1 LED is intermittent (I believe this is down to a dry joint). Has been like this since purchase.
SERIAL#: 313713.
240v / 50-60Hz / 25w.
11kg (Unpackaged)." Click here to search for synths on eBay