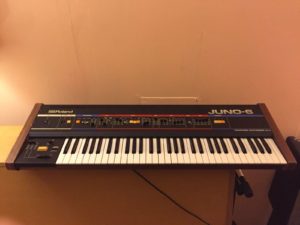 "- There are a number of chips in the wood (See in pictures).
– Some small sections where the metal has rusted, though nothing too major (See left hand side in pictures).
– The button on the 'Key Transpose' function is missing and needs replacing, however it still works when pressed.
– The switcher needs replacing on the 'Octave Transpose' function, but the mechanism underneath still works, you just have to stick your finger in to use it.
– The bender switch has snapped off, but the rolling mechanism still works so you can still bend the pitch by rolling it with your hand." Click here to search for synths on eBay