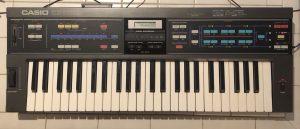 "Casio CZ-1000
Used
Excellent physical condition.
Tested and functional; there is a low hum in the headphone jack, but otherwise everything is in good shape. Needs new batteries for memory.
Comes in original box with cover, manuals, and power adapter. It also has a RAM disk, but I don't know the functionality of it.
Price includes shipping." Click here to visit listing on eBay