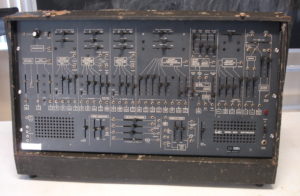 "It Is Important to Read this Description to the End. Shipping is available although this auction states "local pick up only".
What comes with this auction;
One ARP 2600 P Synthesizer that does not work, needs repair or use for parts.
One set wires. These wires connect the keyboard to the synthesizer.
One ARP 3604 P Key Board. We have no idea if the keyboard is working etc.
SEE PHOTOS… Look carefully to note condition, some knobs missing and/or broken from synthesizer.
Important; This is sold as-is, not working, for parts or repair.
The fuse is not in place on the synthesizer, DO NOT think you can put a fuse in and it will work – It will not.
We included two photos of the interior of the ARP 2600 P
SHIPPING: Winner of this auction will choose shipping method. There will be two packages or cartons.
First Package will weigh about 38 Lbs and measure 36″ x 24″ x 12″
Second Package will weigh about 25 Lbs and measure 38″ x 12″ x 8″"
Click here to visit listing on eBay