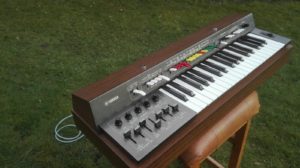 "I'm having a bit of a clear out and selling my lovely Yamaha SY1 synthesizer.
This was Yamaha's first synthesizer from 1974 although it seems advanced in that the keyboard has aftertouch which can be routed individually to the filter or wah-wah, the amp or to produce vibrato, or all three. There are 28 preset sounds (Growl Pet being one) but you can also engage manual control over the filter cut off and resonance, the amp envelope, vibrato, pulse width and portamento, which can then be edited using the sliders and knobs on the control panel. You can also slide into notes using attack bend.
Once mastered this is a very expressive synth to play and though I have Roland SH1000 and 2000, I personally think this is really head and shoulders above them control wise (and it never double triggers!). Put through some dense reverb and delay you can almost make it cry like a guitar – there are some good demos on YouTube.
The synth is in lovely condition with just a few small paint chips on the front corners (seems to be very common on these synths) and a couple of marks on two of the keys. The wood is really nice and clean with no marks, I hope this comes through on the photographs. I just don't use it as much as I once did.
The synth also comes with about 3 mtrs of power cable which seemed to be standard then."
Click here to search for synths on eBay