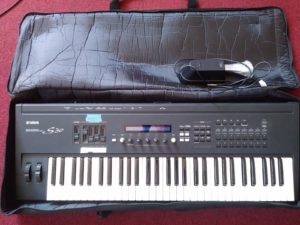 "This is a 66 key version of the Yamaha Synthesizer, flagship model from around 2000.
Previously used for church. The strength of this product is that there are four sounds that can be saved and played simultaneously according to the four volume sliders at the left of the panel. (As you can I used tape to mark the settings that I used. They will be harmlessly taken off before shipping.)
The keyboard can also set ranges from which that sound will work. That way, a pad sound can be set for only the lower registers. Likewise the strings can be set to only play at higher registers. Also, there is of course, other modulation: reverb, chorus, pitch shift, etc.
That's basically what I use.
The piano comes with a FC-4 sustain pedal which was separately purchased and in Like New condition.
The piano also comes in a gig bag. Although not very strong it is still useful.
Unfortunately this does not come with the power supply. The power is standard with a few of their other models which I've also played. You should be able to find this on the internet." Click here to search for synths on eBay