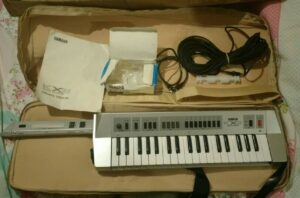 "Vintage 80's Yamaha KX5 Remote Keyboard Keytar mint with case and accessories.
I can't believe I'm parting with this. I've had this from new and its never been gigged and hardly had any home use. My delusions of being a working musician are well past me and the money needs to be put to better use 😉
I'd comfortably say it's as mint as you are likely to ever find, bar being a time traveller and walking back into a store.
The last time i used it was about ten years ago, plugged it into my fantom and it worked perfectly…then it went back in the case.
It comes with its original gig bag with the tag attached, user manual, battery holder and cables."
Click here to search for synths on eBay