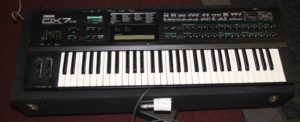 "2 columns on the left side of the display are out.
Prompts that it needs battery replaced.
Sometimes is displays gibberish characters on the right side of the screen.
Sometimes it continues to play after you release the keys, like it has a mind of it's own.
Sometimes there is no output on single voice.
I could factory reset it, but I do not have the ROM to reload factory data.
I've included some samples of readouts.
No broken keys.
Missing 1 rubber foot.
Includes "sustain" cartridge." Click here to search for synths on eBay