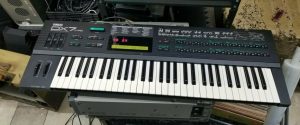 "Recently obtained from a back line rental company that was liquidating excess equipment.
In great physical condition, very clean all around. No cracked or chipped keys.
Display reads "Change Battery!" when powered up. I did install a new battery, but display still says to change it.
No output sound from any of the outputs at all.
Has some funky looking characters on the display, I imagine this is from the low battery.
Floppy disk drive does seem to be functioning as I heard it making noise when engaging the drive from the menu.
KEYBOARD IS BEING SOLD AS IS, AS DESCRIBED. IT NEEDS WORK AND IS NOT FUNCTIONING PROPERLY." Click here to visit listing on eBay