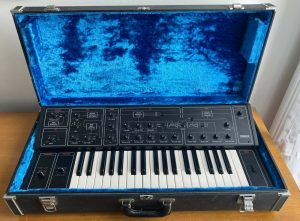 " Classic 70's mono synth in solid condition with all knobs, switches, jacks and LED's working as intended.
This unit was recently serviced, with the power supply being recalibrated along with the VCO, VCF and VCA sections — in other words a full recalibration of the unit as per the original service manual.
The unit has been modified to operate at normal US wall voltage, not the 100V Japanese it was originally set for. This mod only involved attaching a different tap from the original transformer inside, as per the service manual.
Key action is smooth throughout full range of keys." Click here to search for synths on eBay