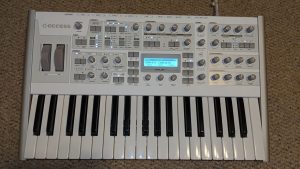 "Excellent condition Access Virus TI2 Polar.
Unfortunately the time has come for me to part ways with my last and favorite synthesizer. I moved a few years back and never quite got around to unpacking all of my music equipment, so it seemed like a shame to keep something like this hidden away in a box when it was meant to be played.
Comes with power cable and no box/manuals (misplaced them somewhere over the past few years). Plays well and every feature I tested works as expected.
Auction is for the 37 key Polar model, NOT the 61 key Keyboard model as eBay insists upon describing it. Picture shows the actual synthesizer, which again, is the Polar model.
I hope you enjoy owning it as much as I did. It was the foundation of my music for many years, and it was a pleasure to play.