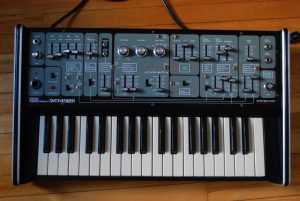 "down sizing my studio and selling my Roland System 100 Model 101.
It is a 70s era roland mono, it is crucial part of the system 100 series. It has 1/8″ jacks to integrate it with the rest of the system 100, but it also works great with eurorack modular equipment (which is what i was using it for), an excellent way to add a 70s era roland oscillator and filter to a new modern eurorack system.
It is in great working condition, I repaired an issue with the headphone jack and filter, and fully calibrated it, and cleaned the bus bar for the keybed.
Cosmetically it is in decent condition for its age.
It will be shipped in a custom metal hard case.
Everything works 100% but because of the nature of vintage synthesizers and shipping, I can not be responsible if anything happens during shipping, so therefore it is sold as is." Click here to visit listing on eBay